Leptocoris mutilatus (Gerstaecker 1873)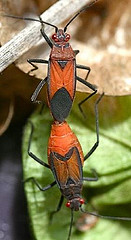 Mating pair of L. mutilatus in Africa. This female is brachypterous (short-winged).
Range: Central and eastern Africa; Madagascar
Hosts: Cardiospermum corindum, Cardiospermum grandiflorum
Physical description: About 11 to 16 mm in length. Scarlet red or reddish orange with black membrane; scutellum may be completely black, completely red, or red outlined in black. Corium, clavus, and pronotum may have a greenish tint but always lack black undertones. Pronotum is relatively long and slender; it also has a distinct longitudinal ridge that passes through the center and becomes finer posteriorly. Ventral side is red, including the coxae. Appendages are brownish black.
May resemble: L. chevreuxi (lighter in color) and L. hexophthalmus (less red in color, has black or dark brown undertones)
Distribution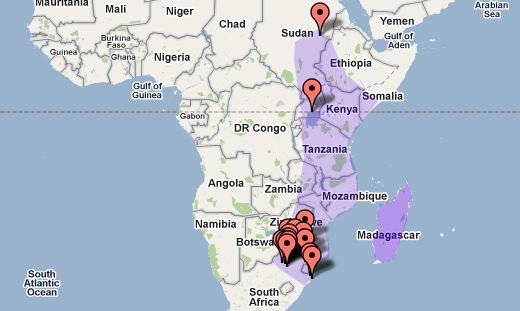 Leptocoris mutilatus has been found in Madagascar, Zimbabwe, and Tanzania but the exact locations of where it was collected are not known.
Red markers = locations of collection sites
Blue region(s) of land = inferred range
3/4 inch = 1000 miles
Click here for an interactive version of this map.
References