Leptocoris nigrofasciatus (Distant 1914)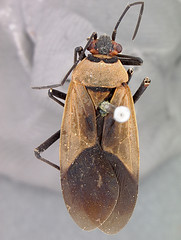 L. nigrofasciatus specimen, Smithsonian Institute.
Range: Central Africa
Physical description: About 11 to 15 mm in length. Ochre or reddish ochre in color; head, anterior margin of pronotum, and membrane are black. Pronotum is broad with a pointed bulge on the anterior end and has a center line that does not pass through entire length of pronotum. Ventral side is ochre or reddish yellow transversely fasciated with black; costal margins of ventral side are red. Appendages are brownish black.
May resemble: L. amictus and L. mutilatus
Distribution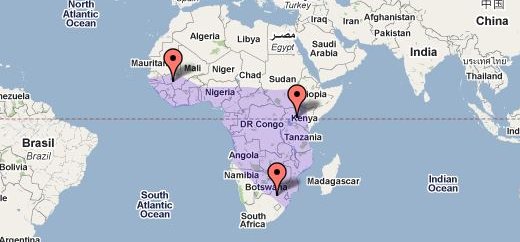 Leptocoris nigrofasciatus has been found in the Democratic Republic of the Congo, Namibia, and Togo but the exact locations of where it was collected are not known.
Red markers = locations of collection sites
Blue region(s) of land = inferred range
3/4 inch = 2000 miles
Click here for an interactive version of this map.
References