Leptocoris augur (Fabricius 1781)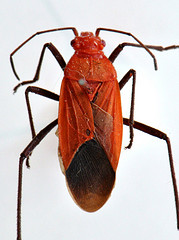 L. augur adult. Dried specimen from the London Museum.
Range: Southeast Asia mainland (into Indonesia)
Hosts: Cardiospermum halicacabum var. halicacabum (Balloon Vine or Heartseed) and Schleichera oleosa (Lac Tree)
Physical description: About 11 to 16 mm in length. Red or reddish-orange dorsal side with black membrane. Pronotum is elongate and substantial. Ventral side is red or reddish-orange. Appendages are black.
May resemble: L. capitis, L. dispar, and L. minusculus (ventral side is mostly blackish brown in color)
Distribution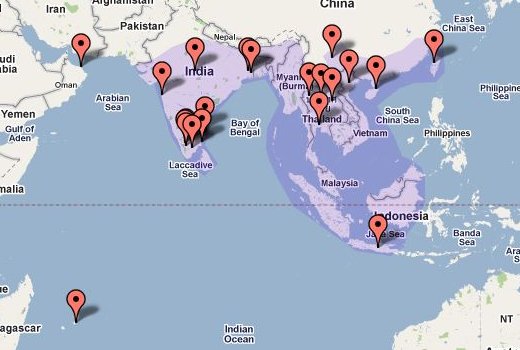 Leptocoris augur has been found in Malaysia, Myanmar, and Sri Lanka but the exact locations of where it was collected are not known.
Red markers = exact locations insects have been found
Blue region(s) of land = inferred range
3/4 inch = 2000 miles
Click here for an interactive version of this map.
References