Females of this species preferentially bury their eggs in the ground; this is thought to protect the eggs from predation and dehydration.
Jadera choprai (Göllner-Scheiding 1979)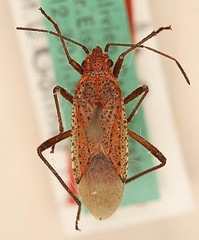 J. choprai specimen, Berlin Museum.
Range: Argentina, Bolivia, Brazil, Paraguay, and Uruguay
Host: Cardiospermum corindum (Faux Persil) and Cardiospermum halicacabum var. halicacabum (Balloon Vine or Heartseed)
Physical description: About 8 to 12 mm in length. Ochreous orange dorsal side with distinct irregular spots and brown membrane. Head and scutellum are orange (head sometimes brown). Ventral side is ochre. Appendages are dark brown.
May resemble: J. decipiens and J. goldbachi (both are less orange in color)
Distribution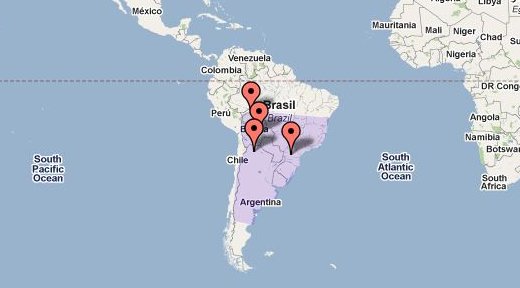 Red markers = locations of collection sites
Blue region(s) of land = inferred range
3/4 inch = 2000 miles
Click here for an interactive version of this map.
References