Jadera hinnulea (Göllner-Scheiding 1979)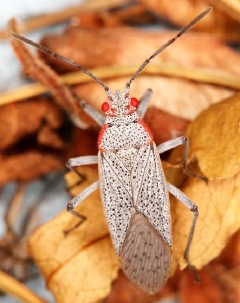 J. hinnulea adult, Santa Ana National Wildlife Refuge, Texas, USA. Individuals with fewer light-colored scales on the body surface than the one picture here will be browner in color.
Range: Texas, Mexico, Panama, Honduras, Guatemala, and Colombia
Host: Serjania brachycarpa (Littlefruit Slipplejack)
Physical description: About 8 to 12 mm in length. Brown to gray dorsal side with red on lateral margins of pronotum. Ventral side of thorax is brown to gray and abdomen is reddish orange. Appendages are dark brown to gray.
May resemble: J. coturnix (ocelli much closer together than on bayardae, dorsal body color light brown).
Distribution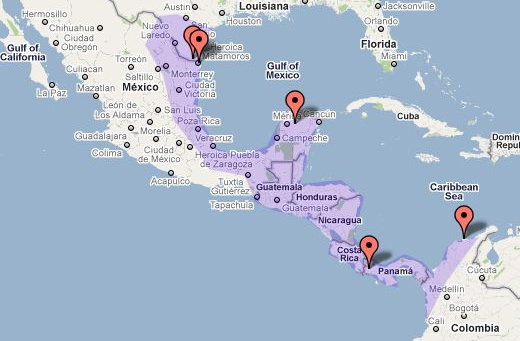 J. hinnulea has been found in Guatemala and Honduras but the exact collection locations are not known.
Red markers = locations of collection sites
Blue region(s) of land = inferred range
3/4 inch = 500 miles
Click here for an interactive version of this map.
References