Jadera diaphona (Göllner-Scheiding 1982)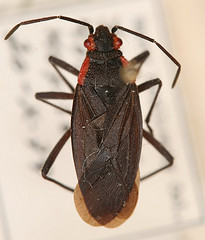 J. diaphona specimen. Berlin Museum.
Range: Mexico, Nicaragua, Costa Rica, and Panama
Hosts: Cardiospermum grandiflorum
Physical description: About 8 to 12 mm in length. Dorsal side is blackish brown except for sides of head and pronotum, which are reddish orange. Sides of pronotum are slightly rounded. Abdomen is yellowish orange. Appendages are blackish brown.
May resemble: J. haematoloma (pronotum shorter and thinner; abdomen partially dark in color)
Distribution
J. diaphona has been found in Mexico and Panama, but the exact locations of where it was collected are not known.
Red markers = locations of collection sites
Blue region(s) of land = inferred range
3/4 inch = 1000 miles
Click here for an interactive version of this map.
References